When I started taking classes at the community college there was one subject that caught my eye and reeled me in.  Early Childhood.  I flew through the early childhood classes soaking up everything I possibly could about kids.  I studied Art for the Young Child, Language for the Young Child , Infant and Toddler Care.  I took workshops, seminars and attended conferences.  If it had to do with kids I was there.
All of those classes helped in my preschool teaching career and I was glad to have spent the time I had learning about kids.  But it wasn't until Big M was born that I realized just how valuable that education was.  All of those tricks and techniques that had been stored away in my "I'll need it someday file" became relevant.
As a parent, I am able to pull from this huge resource of information and experiences in just about every situation or challenge that comes along.  I will admit that it has crossed my mind (and maybe my lips)  that every parent should be this prepared.  Wouldn't parenting be so much easier if it was your area of study?  Of course the idea that every parent would have the desire to get a degree in KIDS is just plain silly.
The lucky thing is… you don't have to get a degree in kids to learn tricks and techniques to become a better parent.  You can get the information from those who not only took the classes but have used that information with actual, real life kids.
Amanda from notjustcute.com wrote an e-book called Parenting with Positive Guidance: Building Discipline from the Inside Out.  The e-book had such a great response that Amanda has decided to provide an e-course based on the book.  I cannot tell you how excited I am.
I have always tried my very best to practice positive parenting and knowing just how passionate Amanda is about positive guidance I am sure her e-course will be right up my alley.
Amanda has a BA in both elementary and early childhood education.  She also has 15 years of experience.  That isn't what draws me though.  I like that she actually has kids.  So not only does she understand the workings of kids in a classroom setting, she has tried these fabulous techniques with her own kids.
Parenting with Positive Guidance E Course
includes 
~Four week video classes
~Links
~Printables
~Discussion forum
~2 free e-book (yep… including the one that was so popular
)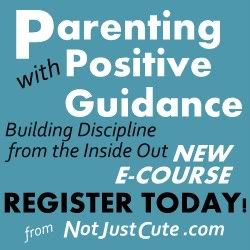 Now for the fun part.  Hip hip hooray!!!!  Amanda has offered one of my readers… oh yeah one of YOU a chance to take her e-course for free.  That means that we could take the class together.  What's more fun than that?  If you just can't wait to find out if you are the winner go ahead and click over.  Registration is open!
The giveaway starts now and runs until next Saturday March 24th 6pm PST.  Entry is easy.  Just leave me a comment telling me what current parenting challenges you are facing.
One entry per person please.
I am being compensated for this post.  All opinions are mine.
   *** Update… the giveaway is closed but registration for the E Course is still open.  Click here to visit Amanda Morgan – NotJustCute.***